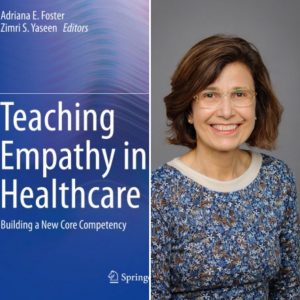 Two Herbert Wertheim College of Medicine faculty members were recognized at this year's Annual FIU Book Author's Reception. For the first time, the event was held virtually over two days, September 14 and 15.
Congratulations to our 2020 FIU book authors, Dr. Adriana Foster and
Dr. Eneida Roldan.
Eneida Roldan, MD, MPH, MBA
Succeeding in Academic Medicine
A Roadmap for Diverse Medical Students and Residents
From the book: "This first-of-its-kind book for underrepresented racial and ethnic minorities (URM), women, and sexual and gender minorities in medicine offers the core knowledge and skills needed to achieve a well-planned, fulfilling career in academic medicine."
Dr. Roldan, a nationally-recognized expert on health care management and leadership, authored a chapter on the latter.
Professor Roldan is CEO of the FIU HealthCare Network, Associate Dean for the Masters in Physician Assistant Studies Program, and Associate Dean for International Affairs at HWCOM.
Adriana Foster, MD
Teaching Empathy in Healthcare
Building a New Core Competency
From the book: "Communication and empathy training are penetrating healthcare professions curricula as knowledge about the most effective modalities to train, maintain, and deepen empathy grows. This book draws on a wide range of contributors across many disciplines and takes an evidence-based and longitudinal approach to clinical empathy education." Dr. Foster is a co-editor of the book and wrote five chapters.
Professor Foster is the Vice-Chair for Clinical and Research programs in the Department of Psychiatry and Behavioral Health at HWCOM. Foster's educational research focuses on simulation in medical education and exploring the utility of virtual patients in teaching empathy in medical interview.